We ran our first event of the year last weekend (3/22-23). It was the HMSA Spring race at Laguna Seca.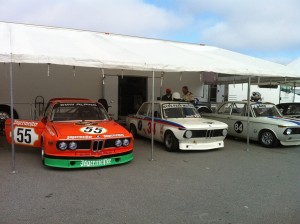 It was a bittersweet weekend for us. I made the trade with Jeff for the Jagermeister CSL. In exchange I got 2 1971 BMW 2002's with Trans-Am history.
The weekend went very well for me. The only problem I had was adapting to the car. The pedals did not fit well at all, and I could not heel-and-toe at all. The pedals lined up in such a way that when I tried to roll my foot over to blip the throttle, my foot got jammed between them.
I ran in Group 3, which was made up of 29 of the best and fastest B Sedans on the West Coast. There were a bunch of Datsun's, BMW's and Alfa's. It looked like a Trans-Am 2.5 Challenge grid from the early 1970's!
I qualified 8th for the Saturday race, and finished 8th. My best lap time was 1:48.8.
That meant I started 8th in the Sunday feature race. Starting 9th was Adam Carolla in his fast, ex-Bob Sharp Datsun 610.
At the start he latched on to my rear bumper, and stayed there for the first 7 laps, giving me all I could handle. He finally retired with an engine problem.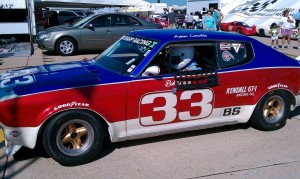 On the first lap I was following Steve Link's 510 Datsun very closely when he suddenly slowed coming out or the Rainey Curve. It was all I could do to avoid hitting him in the trunk. He said later that he broke a half-shaft.
The rest of the race was pretty uneventful, and I ended up finishing 7th. My best lap time of the race was 1:47.6, which was an improvement from Saturday.
Terry Forland drove the second 2002 all weekend. That car is not as well developed as the #34 car, and despite his considerable driving skills, he was never quite able to match the #34 car. He ended up finishing 11th on Sunday.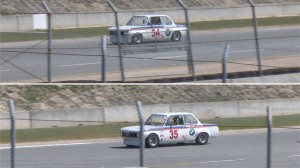 It was a great weekend, and a great way too start the 2014 season. We won't be back to Laguna Seca until the Rollex Reunion races in August.
Here's the link to the video from my YouTube channel:
Adam Carolla posted his video of following me. Here's the link (Rated PG13):