The reassembly of Luigi is coming along nicely. Jim and his shop have been on top of every aspect of the rebuild. They do such a great job! Here's some shots of what is going on presently:
Here is the new fuel cell. The one that was in the car was a hill climb can, and didn't have enough capacity for circuit racing, so out it came. We decided to not plumb up to the inlets in the deck lid for now, but that may be changed later.
Here's what's going on inside the fuel cell. The picture is taken looking down from the top of the can. There's is a catch tank that holds fuel under cornering and braking forces, a low pressure pump moves it from there into the black swirl pot which fills up and has a 10psi relief valve on top to provide a constant column of fuel available for the high pressure pump to draw off of so that air bubble free fuel goes up to the injection pump on the engine.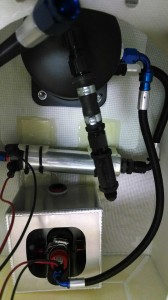 Finally, the gauges are back from the rebuilder. The car had a stack panel that was installed during the rebuild of the early 90's. We wanted something more authentic, so we decided to replace the stack panel with a fiberglass dash and then re-install the proper gauges. Yes, I know they are 'P' gauges, but that was what they used back then: