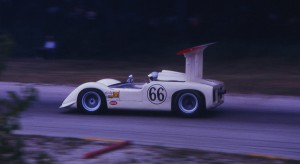 As a young man I spent many summers hanging out at Road America watching some of the biggest names of the day racing some of the most spectacular cars of the period. It left an indelible mark in my memory, and a craving to be on that track in a race car some day. But it would be decades before that dream became a reality.
I never got to race on that track while I lived in the mid-west. The last race I attended there was a combination F-5000, Trans-Am weekend in the early 1970's. A few years later I got married, moved west and thought I'd never get the chance to drive Road America at speed.
However, last summer Mary and I made the trip back to our old stomping grounds, and I finally got to race on the track I had always dreamed about.
Its a long drive from Amity, Oregon to Elkhart Lake, Wisconsin. We left in our RV on Sunday morning, July 14, and planned to arrive Wednesday afternoon, July 17.
We headed east out of Portland and up the Columbia Gorge on I-84, turning north at Tri-cities. We made our way up 395 to Spokane, and then headed east on I-90 through the Idaho Panhandle into western Montana. Then the long slog the length of Montana, North Dakota, and down through western Minnesota into the Twin Cities.
We spent Tuesday evening at some old friends house west of Minneapolis, and left early Wednesday morning for Elkhart Lake, arriving about 2:30 that afternoon.
The Koepchen 2002  had been hauled to Road America via Mont Tremblant by Racecraft, so we just needed to find their rig in the paddock. Not as easy as it sounds. The paddock at Road America is huge, and it was full of participants and their rigs. After checking in and getting our credentials we found a paddock steward to help us locate our crew and car.
Thursday and Friday were spent learning the track. It was quite a thrill to drive out onto the main straight for the first time. Road America is a big, fast track, and it took a while to get comfortable going through some of the high-speed sections. Here's some video from practice:
I qualified in the top 10, which is a testament to the great job Terry Tinney did on the motor. Road America is a horsepower track, and we were getting 125 mph down the three straights. Not to shabby for a box!
My Group was the first race on Sunday. I was lined up 5th behind Vic Skirmants in his quick 356 Porsche. At the drop of the flag I was able to get by him down the back straight. I was also passed by an Elva, but he made a mistake at the Kink and damaged his car.
Vic and I traded positions for the entire race. I was quicker down the straights. He was better under brakes, and through a couple of turns.
On the last lap we caught some lapped traffic, and I got held up through the kink. Vic got just enough of a gap that I couldn't catch him on the front straight. It was a lot of fun!
Here's the video of the race:
After a great weekend we loaded the RV and began the long trek back west.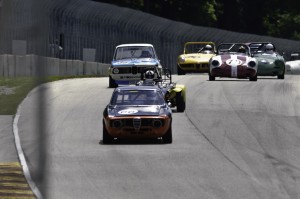 The track was everything I hoped for, plus a lot more. As you watch the videos, look at the park-like atmosphere they have created. No wonder it is such a racer and fan favorite.
I can't wait to get back there.