Replicas, Tributes, and Clones. Oh My!
Forged or faked copies of valuable collector cars has long been a problem in our hobby. An auction expert recently told me about the MG K3 race car made in the 1930s. Only 33 of these cars were produced by the factory, yet today there are over 100 "survivors" that he knew about.
Creators of these imitation cars can be motivated by several things. Perhaps they just admire a certain car and want to have one like it. The less scrupulous are often driven by greed. When a 1973 Porsche Carrera RSR is worth $1.75-$2.0 million dollars there is a lot of incentive to take a 911 chassis and turn it into a gold mine.
There are legitimate classic car replicas and tribute cars that sell for far less than their authentic counterparts, and there's nothing wrong with buying or selling one of these, as long as it's priced accordingly and the buyer knows the car is not a genuine example.
Problems arise when someone claims a replica is an authentic example of a valuable classic car and tries to sell it for the high price of that original. Unfortunately this has happened too many times.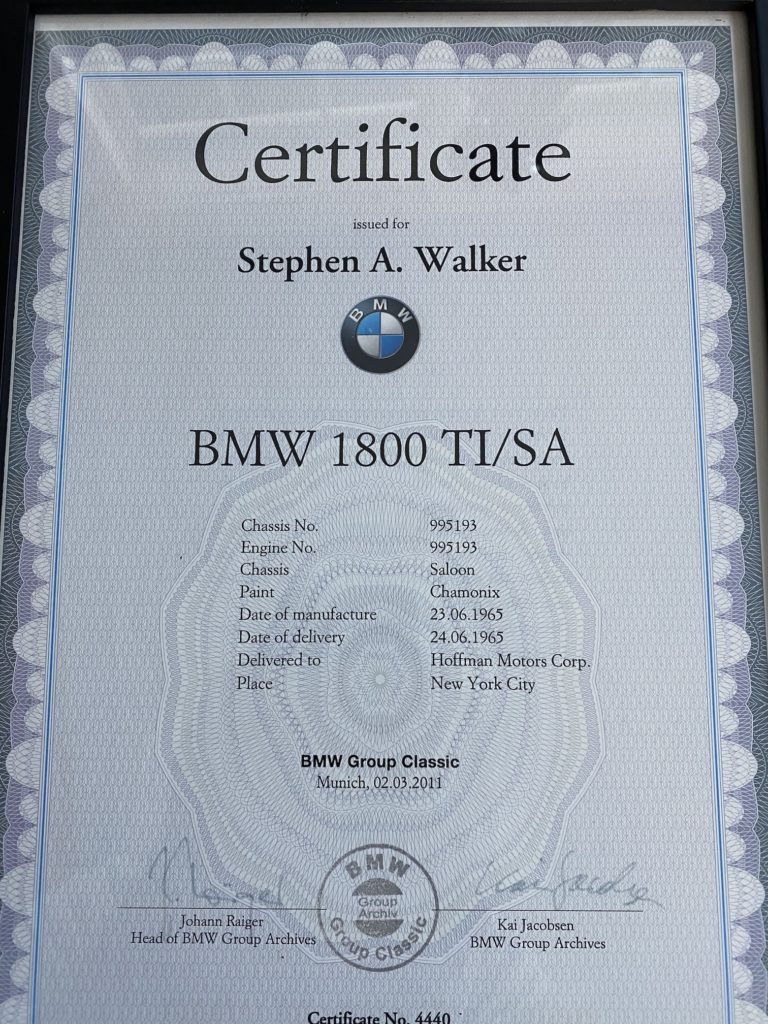 To date BMW's have been mostly immune to this issue. That is not to say that there have not been any problems in the BMW community. There have been quite a few cases of counterfeit 328 Roadsters made from a 319 chassis. Finding a third party VIN plate is not difficult, and getting a "Zertifikat" from BMW used to be much less rigorous than it is now. The result is that many of these fake roadsters can "look" genuine at first glance.
Regrettably I have run into this problem twice in my years as a BMW collector.
In the early 2000's I was looking to buy and race a CSL. In my search I found a car that the seller claimed was a genuine Alpina racer driven in period by none other than Hans Stuck. It had a VIN plate that carried a correct CSL number.
As further proof of its authenticity the seller showed me a photocopy of a WAGENPASS with the VIN of the car hand written in it and a race meeting entry listing Hans Stuck as the driver. It was a poorly done and blatant forgery. Plus a simple check of the records showed that Hans Stuck was driving a different car at that particular race.
There was also a stack of paperwork accompanying the car. Upon inspection of these papers I found a receipt for the roll cage installation dated 1992, along with a bill for building the race engine dated at about the same time. The clincher was a receipt from a European car repair shop in California for a service dated in 1990 that had the car's VIN listed on it.
What became clear was that the car had been a street car until the early 90's when someone had converted it into a race car.
When I confronted the seller with these receipts he just shrugged his shoulders and walked away. Why he had kept these papers and allowed me to look through was either stupidity or an act of immense hubris. He did continue to advertise the car as a genuine Alpina race car for another 6 months with a correspondingly high asking price.
More recently I was made aware of a car being auctioned in England claiming to be a genuine TiSA. As an owner of a TiSA myself I am always interested in these cars and the value they achieve at auction. So I followed the link and looked at the car.
I was impressed as I read through the glowing description of the car:
"— Acquired by Scuderia Bavaria (Dieter Quester) in the late eighties and one of four totally rebuilt for BMW's semi-official entry to the FIA Historic Touring Car Championship in the early 90s
— Much success in '91/92 with Dieter Quester winning the FIA Championship in '92
— Owned and raced by our vendor since 2004
— Expertly run and developed by marque experts, Laranca Engineering for Richard Shaw and Jackie Oliver
— Triple European Touring U2TC Championship winner. Multiple class wins and impressive results between 2004-'17. FIA papers valid until 2026. Winner of the 2011 Goodwood St Mary's Trophy
— Years of investment, time and hard work have gone into this car to make it probably the most developed and successful genuine Ti/SA out there. Recent fresh engine and gearbox"
Wow! It looked on paper to be a great car with a lot of provenance.
Then came the punchline:
"****** *********(name withheld intentionally) from Scuderia Bavaria had purchased a number of cars prior to the '91 season including four of the genuine #995 prefix 001 to 200 chassis-plated original cars for Quester to prepare (our car today #995193 was one of those). They retained the car's centre steel hull but, we understand, very few of the original panels remained in place. All four were prepared to the original spec to comply with the FIA regs."
What caught my attention was the VIN given in the ad- 995193. There were several pictures of the car, including the VIN plate showing 995193.
That happens to be the same VIN as my TiSA. I was dumbfounded.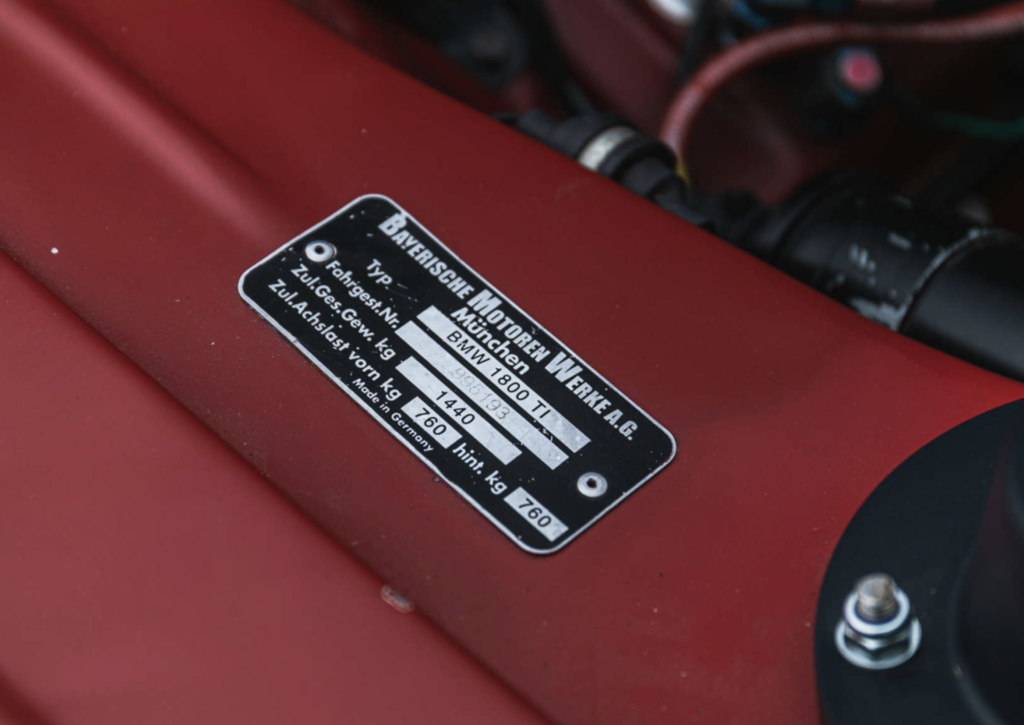 I immediately shot off an email to the auction company informing them that the car they were going to offer for sale was not the genuine TiSA #995193. To substantiate my claim I included photos of my car, its VIN plate, matching engine block stamping, matching VIN stamp in the radiator shroud, and the certificate of authenticity from BMW Classic.
I also told them that my car had been one of the 54 TiSA's imported by Max Hoffman, a fact almost unknown in Europe. It was sold by the BMW dealer in Portland, OR in 1966. I told them that the car had remained here in the Northwest its entire life with a documented chain of ownership from new.
The auction company had an obligation to pass my email on the the owner of the car. They said he was shocked to find out his car was a fake.
I don't know what story he was given when he bought the car. Nor do I know how much research he did into TiSAs and how to verify their originality. Neither do I know what he paid for it 17 years ago. But given the high estimate listed in the auction description ($117,000-$138,000), he clearly hoped to benefit from the sale based on the claim that the car was an original TiSA with a lot of sexy race history.
Fortunately the owner realized he had a problem and wisely decided to withdraw the car from the auction to spend some time contemplating his options.
I think there is a lesson here for us. As the values of rare BMW models such as 328 roadsters, CSL's, and TiSA's start to climb there will be an increasing temptation for less scrupulous people to make a proverbial silk purse out of a sow's ear.
Right now you can buy a nice 1800Ti for less than $25,000 and with a little work and a few readily available parts you can turn it into something that may pass for a $100,000+ TiSA to someone who doesn't know much about the cars.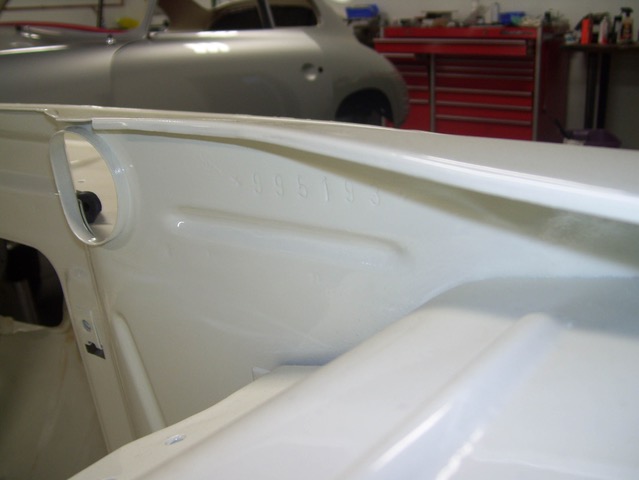 Let the buyer beware! If you intend to invest in one of these rare cars from BMW do your homework! Know who you are buying the car from. Know where to look on the car and what to look for to verify its authenticity. Check with the BMW community for helpful information about and verification of any rare BMW you may want to buy. A great place to start is with the BMWCCA!
I don't know if the story of #995193 is over yet or not. I have written several posts on the various BMW forums to create a digital record of the story. My hope is that any would-be buyer of the car will do an online search and so find the information, should the car be put on the market again as my car.