Every year during the 2nd and 3rd weekends of August there occurs an event that boggles the automotive mind. It is called "Car Week," and it happens on the Monterey Peninsula.
During the week there are 5 major auctions, 7 major car shows or concours, a dozen minor events, and the Rolex races at Laguna Seca. People come from around the world to attend the event.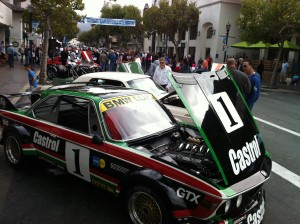 This year I signed up for a couple of new events for us, including the Friday evening car show in downtown Monterey. About 25-30 race cars are escorted by CHiPS from the track into downtown Monterey and put on display for anyone and everyone. One of the local restaurants provides hors d'oeuvres for the participants. It is a very fun event that really kicks off the entire car week scene.
On the way back to the track the lead motorcycle officer cracked the throttle, and of course, we had to keep up with him. He had a big smile on his face when we arrived back at the track. Fun duty!
We raced the Pre-reunion race on Sunday. It was a bit of a disappointment because we only got 2 sessions on track for the whole weekend- qualifying and then the race.
We were still fighting some brake issues, but I managed to finish mid-pack. The group we ran in is was quite a mixed bag with a GTP Toyota, some big-block IMSA cars, and some tube frame Trans Am cars, along with the usual mix of turbo and non-turbo Porsches.
On Tuesday we again were part of an escorted group from the track. This time we traveled to downtown Carmel for the Concours on the Avenue. My grandson, Andrew, rode with me in the car. It was a lot of fun to come down from Highway 1 through Carmel to Ocean Avenue with crowds of people snapping pictures and cheering us on.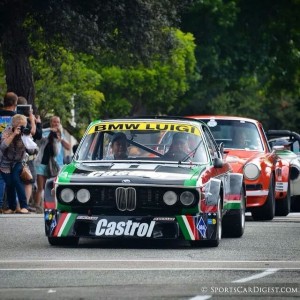 Luigi was awarded "Best in Class" among the race cars. Quite an honor and tribute to Racecraft's work!
Racing began in earnest on Thursday. We had a practice session on Thursday, one on Friday, and then 2 races on Saturday. Luigi was in Group 5A- "1973-1981 FIA, IMSA GT, GTX, AAGT, GTU Cars."
There were 2 other CSLs in the group, Henry Schmitt's IMSA car, and the factory museum car. There was also the factory museum M1 driven by Randy Probst, along with Porsches, Datsun Z-cars, big block IMSA cars, an IROC Camaro, and Adam Carolla in is turbo 300ZX. Quite a collection of fast cars!
On Thursday I had the brake pedal go to the floor as I broke for turn 5. I was right outside of a 935 Porsche, and had to pump the pedal furiously to get the car slowed enough to make the corner.
I thought, "Oh no, here we go again!"
It turned out to be a new brake "problem." It seems we threw a wheel weight, which struck the retaining clip for the brake pads, allowing them to move back out of position. How strange is that?
Friday's practice went much better. I put in a couple of good laps and qualified 23rd out of 44 cars. I still didn't have complete confidence in the brakes, and was breaking pretty early for turns 2, 5, and 11. After 5-6 laps the pedal was still getting spongy. Something was still not 100% with the brakes.
Saturday Mary and I arrived at the track early to find Terry, Jim, and Mike huddled over Luigi's left rear brake caliper on the table in front of the Racecraft truck. It didn't look good.