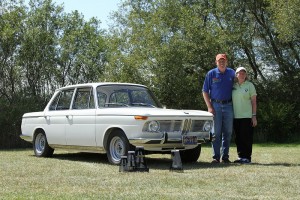 Let me say right up front, "Thank you, Mary!" I wouldn't be doing any of this if I didn't have the complete support of my wife. She not only makes it all possible, she also makes it a lot of fun!
I am fortunate enough to own and race several vintage BMW's. These include- a 1961 BMW 700S, a 1965 BMW 1800Ti racer, a 1965 BMW 1800 TiSA #193, a 1972 BMW 2002, one of the original Hyde Park Motors Tans-Am 2002s, and a 1973 BMW CSL from the ETCC championship Luigi BMW team from 1976-77, a purpose built 1971 2002 honoring Peter Koepchen, a 1971 NSU 1200 TT, and a 1986 Swift DB2.
This is a passion that I have had for as long as I can remember. I hope to regularly post stories, thoughts, pictures, videos, results, and assorted musings about my love of cars and my adventures racing my vintage BMW's.
Please be sure to leave comments!