With the recent sale of Dorthy, my Chevron B16, a space was opened up in my garage.
For some time I have been looking at ex-DTM M3's, but they have become scarce and very expensive.
About a month ago Jim Froula from Racecraft sent me a link to an ex-JTCC E30 M3 in Australia that was for sale.
http://www.ecuriebowden.com.au/1992-group-25-evo-bmw-m3-ex-anthony-reid
The car was spectacular, and had the exceptional history that I prefer. The price was well below a comparable DTM car, so I made the purchase.
Here's a brief synopsis of the history of M3 1/60
In 1987 BMW produced what is the most successful racing / touring car of its type – the M3. During its 5-year reign it achieved 1436 victories and continued to dominate well after 1992, winning races in the Group A's events in Europe, Japan and Australia.
In all 260 cars were produced in Touring Car trim, which could race in Group A, DTM and Group N. An additional 40 – 50 rally cars were also built.
The M3's were built for the express purpose of winning the European Touring Car Championship (ETTC), but were rushed into production to challenge for the World Touring Car Championship (WTTC).
In the first race at Monza in 1987, M3's filled the first 6 places but were later disqualified for running what was known as 'cheater panels'.
The success made everyone sit up and take notice especially the Ford Motor Company who were campaigning some fast RS500 Sierras and were determined to win the WTCC.
The racing that year was close all season and battles were order of the day right down to the last race with the Schnitzer M3's of Charlie Lamm, just beating Ruedi Eggenberger's Texaco Sierra, BMW only just taking the title.
BMW were still considered the underdog and they were aware that they needed to do something special if they were going to keep in front of Ford's RS500 Sierra, hence the 'Evo' (evolution) label was added to the M3's various improvements.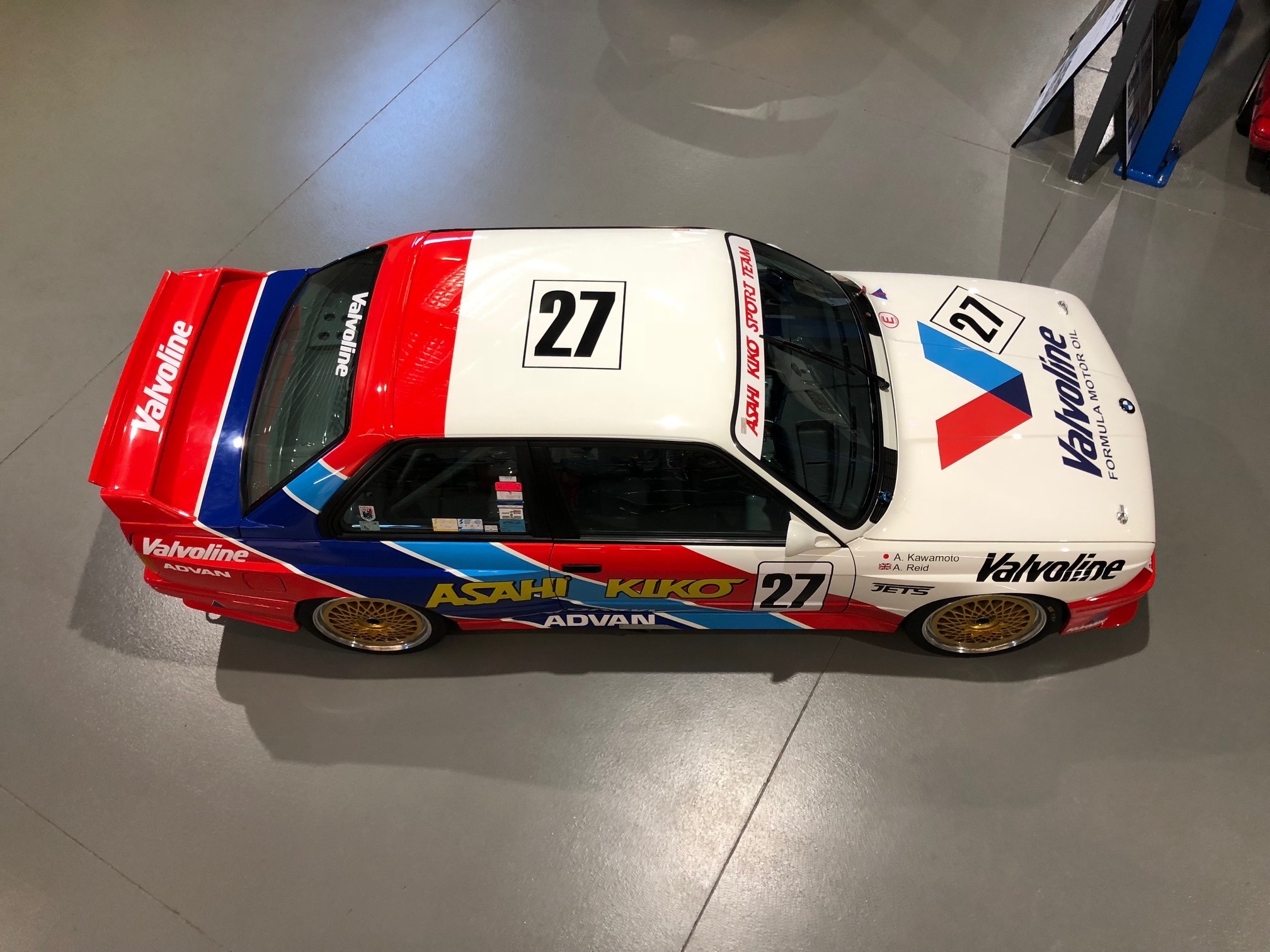 These included more grunt from the engine, better aerodynamics, lighter body panels and more amenable driving positions.
The ultimate Evo package was developed in 1990 for Group A cars. At that time Australia had created their own Group A, as had DTM.
Japan, however, stayed faithful to the original Group A concept and followed FISA (FIA) rules for racing. The reason why is not too clear and could have been for many and varied reasons, after all Nissan (for one), had spent an absolute fortune developing the R32 GTR which dominated Group A.
Whatever the reason, the 'golden age' of Japanese racing saw tracks filled with BMW, Ford, Honda, Mazda, Mitsubishi, Nissan, Toyota plus the occasional Mercedes 190E joining in the fun.
Middlebridge Racing purchased two of the top spec EVO BMW M3's and prepared them to run in the 1993 season of the JTCC.
Chassis M31 / 60 was campaigned by Anthony Reid, who was a well known stunt driver, BTCC contender and British Land Speed record holder. Anthony also managed to get on the podium at the 'Le Mans 24hr'.
His 1993 JTCC campaign was backed by Tomei Sports, with Asahi Kiko and Valvoline sponsoring him in what was the last and most exciting year of the JTCC Group A.
The car was painted in Valvoline's corporate colors and had all the latest Evo upgrades. Reid achieved many podium places, including a win in round 5 of the JTCC at the Ti Circuit Aida. At the 1993 season's end, Reid was in second place behind the Auto Tech M3.
That was the end of that particular racing class, and the car was bought by a businessman who continued racing it in the Valvoline livery. Valvoline requested that he changed the paint as he was clearly no Anthony Reid.
The car was then bought by a Swiss racer who used it in hill-climbs back in Switzerland. It was later sold on again to Classic BMW-expert, Alex Elliot, who sold it to Australian, Adrian Brady. Brady, who had a number of special BMW's, sold it on to its current owner, Ecurie Bowden.
The car was extensively restored over a 12 month in 2011 and in its racing debut in 2012 came 3rd in feature race at Muscle Car Masters. It has been raced in the Australian Group A Historic races since.
The car is currently in transit from Australia to the US. It should be here in early February. Stay tuned for additional updates.