My father had always been involved in the local SCCA club, participating in and supporting their various activities. In fact, the first meeting of the Land-O-Lakes Region of the SCCA was held in our family living room.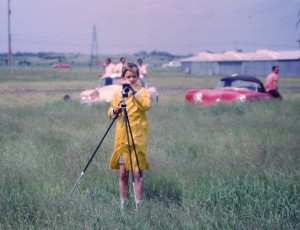 In the early 60's he began campaigning a Formula Vee out of his VW dealership. The car was driven by a young, up and coming local driver named Jerry Hansen. Jerry went on to have considerable success, holding the record for the most SCCA national championships ever won.
I got to go along to the races, and was soon completely a-gog with racing. All I could think about doing when I got older was being a race car driver.
One of my favorite events we went to every year was the June Sprints at Road America. We typically went back for the 500 Mile race in the fall as well. This venue quickly became my favorite track to watch races at.
After getting my drivers license I began to compete in some local auto crosses. Occasionally I was given permission to use one of the used cars from my Father's lot.
At one event I was able to use a boxy BMW 4 door sedan that went like heck. It was a TiSA he had taken on trade. More on this car in another post.
Another 'fringe' benefit was that I got to drive some of my Father's cars. Occasionally some pretty interesting cars landed in our garage, including a pair of Porsche Spyders. The first was a 1955 550 RS. The other was a 1960 RS-60. I'll be doing a post on my experiences with these cars later.
When I turned 18 I bought an NSU 1200TTS that I auto crossed for a few years. The car was quite quick, and often vied for FTD at these events.
I also used this car to begin my formal racing career, which started on ice.